Please welcome my friend, Alice Boll! She is graciously doing a guest post for me, and you are going to enjoy the information on masking which she is sharing with us today! You'll see in coming episodes, that her information on masks will tie in so well as we learn about all the things you can do with Gelatos and many other things!  So, here's Alice!
---
Hi! I'm Alice Boll from Scrapbook Wonderland. Thank you, Kristie for inviting me to share my passion for scrapbooking with you.
Scrapbooking is a wonderful hobby! I'm always surprised at the creative ways I can play with art supplies on my layouts. One technique I find myself using over and over again is the use of masks. I hope I'll inspire you to use the wonder of masks for your next artful adventure!
Masks have two main purposes.
The 2 purposes of a mask:
1. To apply an art medium TO a specific area.
2. To prevent an art medium FROM being applied to a specific area.
What is an art medium? This sounds so technical! It's simply the kind of material you are using or playing with. Examples of art mediums are:
ink
paint
spray or mist
modeling paste
glue (to add mica flakes, pearl beads, micro beads, confetti, glitter, etc!)
gesso
*This is not an exhaustive list… get creative and use your imagination!
The 2 Kinds of masks:
Masks you buy. You can purchase pre-made masks or templates. Some of my favourites are from Julie Fei-Fan Balzer. A great thing about a mask you purchase is that it is easy to wash it up and use it over and over again.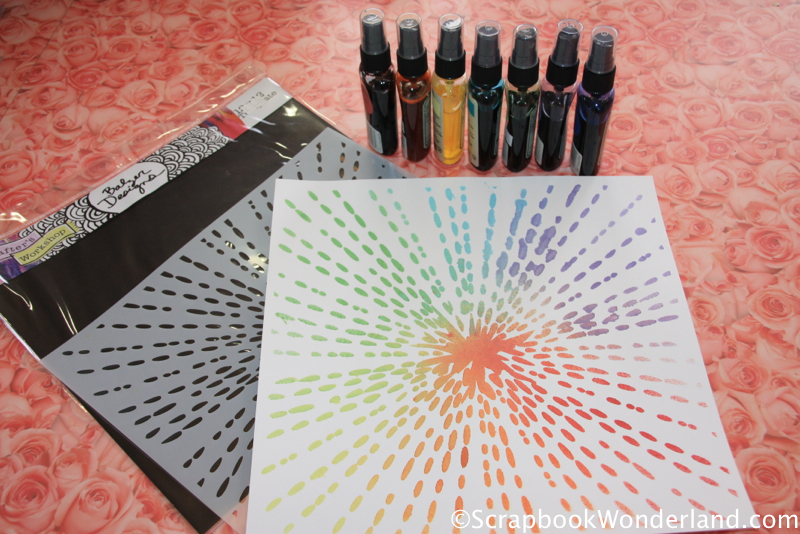 2. Masks you make or find. Create your own mask. Use a die-cut machine or punch to cut shapes out of paper or plastic. You can also use a 'found object' like a bottle cap or jar lid as a mask.
Once you start experimenting with masks you will find many more creative ideas!
Want to see a creative use of masks? Watch Chris Sebo, a spray paint artist in Hawaii. I was amazed when I saw him perform his spray paint magic on Waikiki beach in Hawaii.  http://www.youtube.com/watch?v=wcsogbWzd1c
I hope you have fun exploring the artistic wonders of masks! I welcome you to visit me at Scrapbook Wonderland for more great tips and tricks!
Happy Scrappin'